Everyday Catering - Summer Sizzle BBQ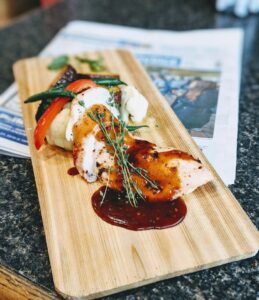 Price Per Person $30.00 + tax
A step up from our
Wind-Up BBQ
menu - you will enjoy spoiling your Staff at your next Staff Appreciation BBQ or relax and kick back with family at your next reunion!
Keep in mind - the Salads on this menu are suggestions, the final decision is yours!
We look forward to catering your next BBQ!
This menu Includes all of the below:
Summer Sizzle BBQ Menu
Toss Salad
Fresh greens, with freshly cut tomatoes, cucumber, peppers, & onions; served with a creamy Italian dressing.
Summer Tortellini Salad
Cheese-filled tortellini, sun-dried tomatoes, spinach, red onions, green black olives, bell peppers with a garlic pesto dressing.
Rustic Garlic Baguette
Fresh baguette in a creamy garlic butter.
BBQ Chicken Breast
Oven roasted sliced chicken breast served in our signature BBQ sauce.
BBQ Ribs
Slow roasted BBQd baby back ribs with a smokey BBQ sauce.
Garlic Mashed Potatoes
Whipped with cream, roasted garlic and butter.
Fresh Fruit Platter
Fresh cut seasonal fruit.
UPGRADE WITH THESE ADD-ONS:
Medley of Vegetables $3 per person.
Double Baked Potatoes $4 per person.
Prawn Skewers for $8 per person
Ice Cream Sandwiches $2.50 per person
Elaborate Desserts $8 per person
The Price Per Person Includes
Takeout plates, cutlery and napkins.