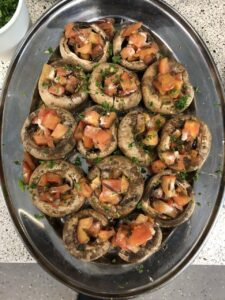 The following items are available, however, we are happy to customize any appetizer menu to your preference.
If you are unsure of any of your selection or would like to add other items from our website, please call us and we can help make arrangements for your special event.
Appetizers - Cold Vegetarian
Seasonal Fruit Skewers
Diced fresh seasonal fruit.
Caprese Salad Kabobs
Grape tomatoes, mozzarella pearls, cucumber and basil on a skewer drizzled in a balsamic.
Tapenade on Crostini
Olive provencale topped on a toasted crostini.
Deviled Eggs
Har-boiled eggs filled with a creamy garlic yolk.
Goat Cheese Grapes
Fresh grapes covered in goat cheese & rolled in crushed pistachios.
Appetizers - Hot Vegetarian
Cauliflower Wings
Panko breaded golden fried served with a creamy ranch.
Mini Spanikopita
Spinach, feta, garlic stuffed in a flaky filo pastry served with tzatziki dip.
Vegetarian Quiche
Tomato, onion, and gruyere cheese in a puff pastry.
Grilled Cheese
Mozza, cheddar, & Swiss.
Granny Grilled Cheese
Aged white cheddar & sliced granny smith apple with an onion jam.
Additional Information
Contact Ritz Catering to discuss any of the extra's that you may require for your event.