Ritz Catering takes pride in providing professional catering services, with over 1000 weddings of all sizes and styles throughout the Fraser Valley and Lower Mainland. Let one of our Event Planners help ensure your wedding day is one of the most special days of your life.
We at Ritz Catering are fortunate to have a modern upbeat Red Seal Certified Chef who takes the new innovative style of cooking to the limit. Let Chef Stu help create a mouth watering menu to compliment your vision at your wedding.
Where We Began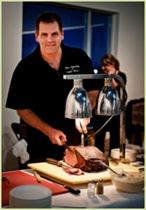 Chef Stu was raised in Ladner, BC and was lured into the culinary world when his passion for this industry and for food was recognized at an early age by his mother and other family members. Stu went on to study the culinary arts at the Vancouver Community College, where he learned to develop his own unique style and flair.
While searching out the finest and freshest ingredients by working with local farmers, fisherman and butchers, Stu can create a menu which allows all the fresh and natural flavors to express themselves in each dish, as well as supporting our local community.
Stu balances his busy catering company while enjoying every spare moment with his wife and four young children. When he is not busy coming up with new menu ideas, he can be found golfing, camping with his family or helping with the plans for his charity rides.