Everyday Catering - Backyard BBQ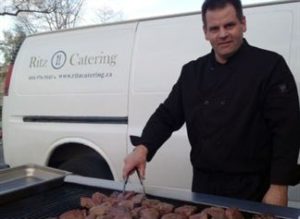 Price Per Person $40.00 + tax
Our Backyard BBQ is perfect for a casual get together. Enjoy a nice evening with your co-workers, or family & friends - whichever your event may be. Let Ritz take care of all your food needs - inquire within about our all inclusive option.
This menu Includes all of the below:
Backyard BBQ Menu
Toss Salad
Fresh greens, with freshly cut tomatoes, cucumber, peppers, & onions; served with a creamy Italian dressing.
Spring Platter Salad
Heirloom tomatoes, cucumber, red onion, avocado, bocconcini cheese and fresh basil on spinach with balsamic olive oil dressing.
Roasted Yam, Quinoa, & Kale Salad
Quinoa, roasted yams, kale, pumpkin seeds, raisins, bell peppers and red onions in a garlic vinaigrette.
Rustic Garlic Baguette
Fresh baguette in a creamy garlic butter.
6oz Sirloin Steak
6oz. tender center cut served with gravy.
BBQ Chicken Breast
Oven roasted sliced chicken breast served in our signature BBQ sauce.
Double Baked Potato
Baked once then mixed with bacon, green onion, roasted garlic, sour cream, cheddar cheese.
Fruit Platter
Fresh cut seasonal fruit
UPGRADE WITH THESE ADD-ONS:
Medley of Vegetables $3 per person.
Sauteed Onions & Mushrooms $2 per person
Prawn Skewers $8 per person
Ice Cream Sandwiches $2.50 per person
Elaborate Desserts $8 per person
The Price Per Person Includes
Takeout plates, cutlery and napkins.