Wedding Catering - Daisy Package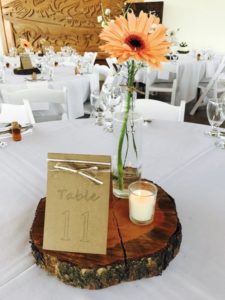 $52.00 per guest
When you're vision includes one entree, choose our Daisy package.
Our Daisy wedding package is our all inclusive starting point. It includes:
Artisan Buns & Butter (traditional, herb, sourdough, & pumpernickel)
Medley of Vegetables
Seasonal Fruit Platter
Coffee/Tea
Daisy Package - additional menu add-on's...
Add-on our 8ft Charcuterie board for your cocktail hour!
Add Traditional Dessert Squares to your Buffet for $2.50 more per person. To include a variety of squares such as: caramel carrot cake, lemon bars, vanilla caramel swirl, macaroon madnss, lemon burst macaroon, triple chocolate chunk browni, salted caramel pretzel, traditional brownie, tiger brownie, haystack brownie, nanaimo bar, peanut butter bar, butter tart bar.
Add Elaborate Desserts to your Buffet for $5.00 more per person.  To include a variety of dessert squares & cakes such as:  Chocolate & Raspberry Mousse Cakes, Carrot Cake, Tiramisu and chocolates.
Daisy Package - what's included?
Dinner Plates, Forks & Knives
Wine Glasses (1 per person)
Water Glasses (1 per person) & Stainless Steel Pitchers
Coffee Cups & Stir Sticks
Dessert Plates & Forks
Buffet Linens
*Having your wedding at the
UBC Boathouse
? Inquire within for our exclusive UBC Boathouse package*