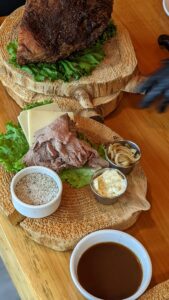 Every wonder how our beef dip gets made??
Our beef dip is super popular on the menu! Here's how you can make it right at home!
What you'll need:
Leftover roast beef (thinly sliced)
Beef gravy
Baguette (sliced open)
Garlic butter
Mozza cheese (or your favourite cheese)
Sauteed onions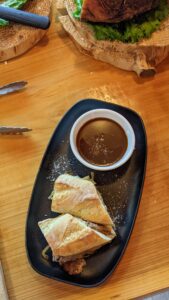 How to put it together:
Heat up your pan or grill. Butter your baguette with the garlic butter & place them butter side down on your pan. Place your thinly sliced beef & sauteed onions on the pan side by side to warm them up. Take your cheese and place that right on top of your beef – cover it to get it nice and melty. Move your sauteed onions right on top of your cheese & then put your beef dip together! Slice it in half and serve it with some nice hot gravy for dipping.
Come by Ritz Grill for lunch! Order online here. Tues-Fri 10am-2pm!
CONTACT US
Share your beef dips on social with us!
www.instagram.com/ritzcateringbc
www.facebook.com/ritzcateringbc