This week on Ask Chef, I am showing you the kitchen equipment I use daily both at work and in my home. These are essential items to have in the kitchen and you can find most of them at Budget Food Equipment – a local small business!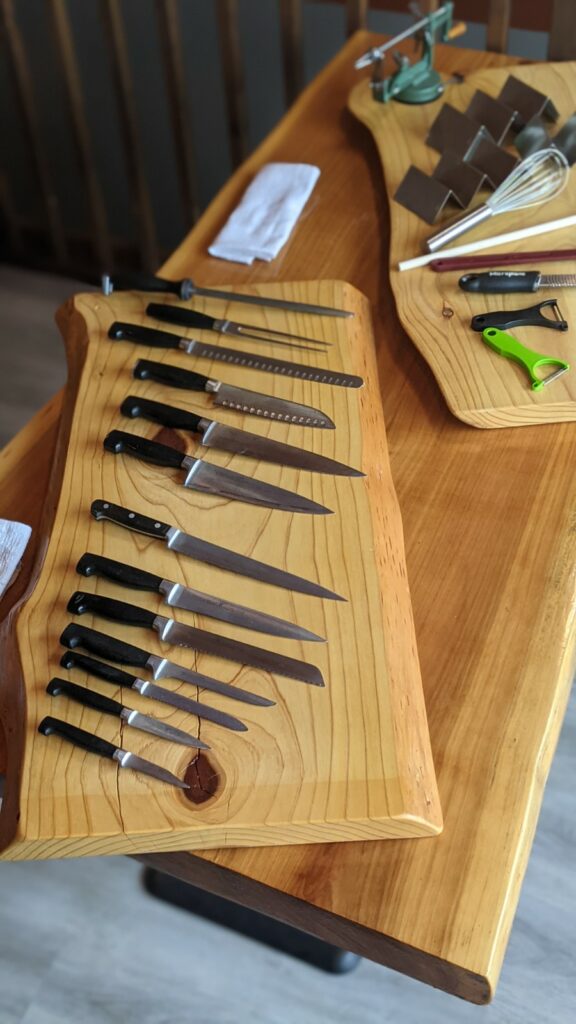 Here's the list of items & their uses:
Paring knife; curved or straight – meant for slicing up handheld items like apples or oranges.
A tomato knife with a serrated edge.
Boning knife; as used in our Traditional Ham Recipe; to get around a bone when cutting it out, it is a very flexible knife
Bread knife; to cut through those crusty rolls fresh from the bakery.
Fileting knife; perfect for fileting salmon or cutting up vegetables.
Soft slicing knife; for slicing ham or roast beef.
8in & 9in French knifes for chopping vegetables.
8in Santoku vegetable knife; this knife doesn't allow vegetables to stick to the edges when cutting.
Slicing knife; for your roast beef buffet
Kitchen fork; for helping lift a turkey or roast out of the pan and onto the cutting board.
Steal; this brings the edge back of your knife – if you have dents in your knife, you need to sharpen it first, than bring the edge back with a steal.
Peelers; great for vegetables, make sure to peel away from yourself (not towards).
Bone pilers; great for getting salmon or turkey bones out.
Microplane; great for grating or zesting.
Wooden spoon & spatula with long handles to avoid heat.
Whisk
Taco holders; kids love these!
Apple corer; cuts and peels it at the same time (purchase online)
Live edge charcuterie boards; we have available for sale, contact us!
Follow us on social for more content!
www.facebook.com/ritzcateringbc
www.instagram.com/ritzcateringbc