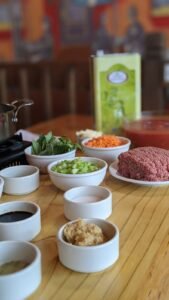 Todays recipe is a homemade bologonese sauce! Super simple & super yummy!! Use this as a regular pasta sacue over your favourite noodles or in a traditional meat lasagna. This recipe is good for freezing and canning. A crowd favourite in our home, you're going to also enjoy it!
In this recipe I use extra lean ground beef as it leaves little to no grease (no need for draining). I also use whole plum tomatoes because they are the best and most wholesome for any recipe – you can crush them up yourself as you'll see in the video. I add a little bit of sugar to the sauce to compliment some sweetness and remove any bitterness. This recipe does take some time, but it is SO worth it!
Here's what you need:
1 large onion, finely chopped
1 stalk celery, finely chopped
1 carrot, finely chopped
3 cloves of garlic, minced
Garlic butter
1lb extra lean ground beef
2 cans (28oz) whole plum tomatoes
2tbsp balsamic vinegar
4 bay leaves
1 tsp oregano
2 tbsp sugar
2 tbsp fresh basil
Olive oil
Salt and pepper
Cheese of your choice (Asiago, parmesan, etc.)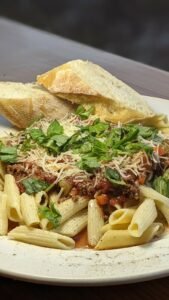 Here's how to cook it to perfection:
Pour a little bit of olive oil in the pan along with some garlic butter to add some flavour. When hot add in your carrots, celery, & onion to sauté for about 5 to 10 minutes. Put your garlic in once the veggies are sautéed & soft to avoid burning, sauté for a few more minutes. Add your extra lean ground beef and cook for 10 to 12 minutes until fully cooked. Add your whole tomatoes, balsamic vinegar, bay leaves, oregano and sugar into the pan. Break up your whole tomatoes with a whisk and add some salt & pepper to season. Simmer for an hour & a half. Finish your Bolognese with your favourite pasta topped with your favourite cheese. Always recommended to serve with warm bread.
Follow us on social for more content!
www.facebook.com/ritzcateringbc
www.instagram.com/ritzcateringbc