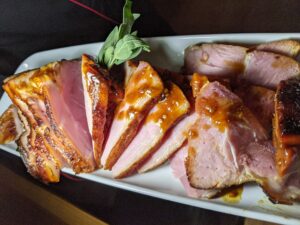 What are the perfect elements to a delicious Thanksgiving dinner? The turkey of course, great company with your loved ones, and the ham! Today, I am sharing my families favourite brown sugar garlic soy glazed ham recipe.
The ingredients for this recipe are simple, it is in the way we cook it that makes it a crowd favourite. The glaze we top the ham with is not to be confused with a sauce, it is more of a paste, and the way it is cooked allows the paste to stick to the ham rather than sliding off to the bottom of the pan.
Want to know the secret? It's real simple!
We bake the ham first! Then we add the glaze and bake it again! Trust me, your guests are going to LOVE this!
In this recipe I used a ham bone-in shank. But, you could use any ham of your choice, if it is a smaller precooked ham just make sure to read the directions on how long to cook it for and at what temperature.
Here's what you need for the glaze:
– 2 cups of brown sugar
– 1/2 cup of regular mustard
– 2 tbsp of chopped garlic
– 2 tbsp dark soya sauce
– Salt & pepper
Here's how to cook your ham: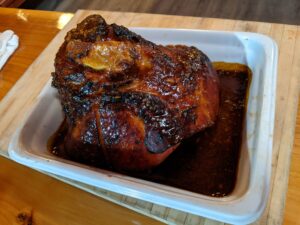 Preheat your oven to 350F. Take your ham and place it flat side down in your baking dish and into the oven for 1 hour. While your ham is in the oven you can start to mix all your ingredients together in a bowl, whisk until it becomes a nice paste. After 1 hour, take your ham out of the oven and glaze it with your paste mixture. Stick the ham back in the oven for an additional 30 minutes. While your ham is in the oven, feel free to spoon your glaze over the ham every once and a while. Grab your carving fork and knife and carve the ham! Spoon on some more glaze and serve warm.
**Remember to read the label of your ham to confirm cooking temperatures and times as every ham is different**
Follow us on social for more content!
www.facebook.com/ritzcateringbc
www.instagram.com/ritzcateringbc