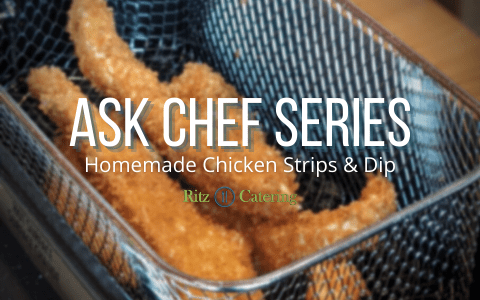 This week on Ask Chef, Chef Stu is teaching you how to make homemade chicken strips PLUS his delicious honey mustard dip to compliment it! This recipe is simple and delicious!! With just a few ingredients and a deepfryer – it's the perfect meal to cook up for the kids lunch or to have as dinner! Serve it up with a salad, fresh cut french fries, or put it in a wrap with some crispy bacon, romaine, and Caesar dressing (crispy chicken Caesar wraps for the win!!)
Here's the recipe!
Chicken Strips Ingredients:
Boneless skinless chicken breast (1per person)
Flour
Egg
Panko
Salt, pepper, & garlic seasoning mixture
Honey Mustard Dip Ingredients:
2 cup Mayo
1 cup mustard
1/2 cup honey
Instructions: Preheat your deep fryer to 350°. Put the flour, egg, and panko either on plates or in bowls (I used plates for the demo). Sprinkle your seasoning mixture into the flour and panko. Slice your chicken breasts into strips – roll them in the flour, then the egg, and toss them in panko before carefully placing them in your deep fryer. While your chicken strips are frying (approx. 8-10 minutes or until golden brown) you can start on the honey mustard dip! It's real simple – mix together all honey mustard dip ingredients in a small bowl!