Here is a wedding outside our regular venue (The UBC Boathouse).
J + C contacted us June of last year. They were very excited to connect with us as they had tried our food at a friends wedding a couple months prior. And we were ecstatic to work with them!
We adored J + C and hope you do too from their menu choices below:
The Menu: Elaborate
The Appetizers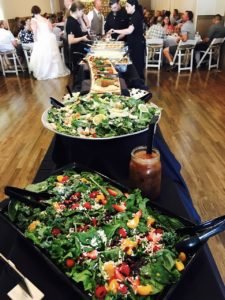 Prawn + Scallop Skewers – Fresh prawns and scallops grilled with tomato, garlic, capers, butter topped with fresh herbs and lemon.
Corned Beef Sliders – Shaved corned beef stacked on a mini slider with a Dijon aoli.
Stuffed Chicken Wonton Shells – Crispy handmade wonton stuffed with diced garlic pesto chicken.
The Main Dishes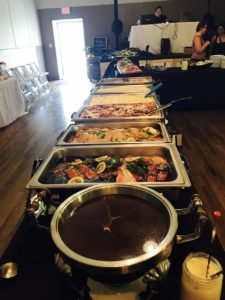 Mediterranean Penne – Sautéed peppers, red onions, sundried tomatoes, black olives in an olive oil pesto with Asiago cheese topped with fresh herbs.
Roast Beef – Served with gravy and horseradish. Carved by chef at end of buffet.
Chicken Breast – Oven roasted sliced chicken breast served in a BBQ Thai sauce.
The Dessert
Fresh Fruit Platter
Elaborate Dessert Platter – Bite size squares of Nanaimo bars, brownies, butter tarts, and carrot cakes along with a variety of elaborate mousse cakes and treats.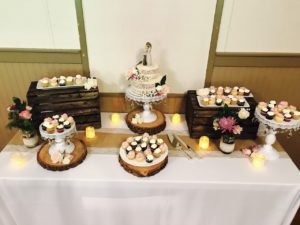 Have a look at their whimsical rustic wedding vision…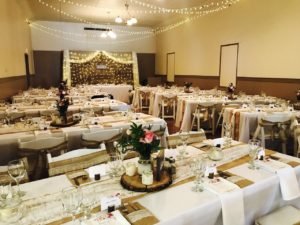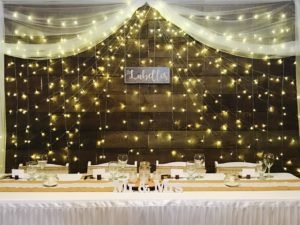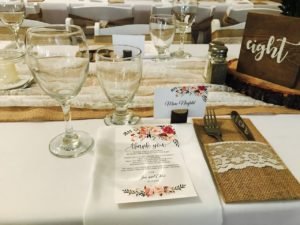 The Vendors
Caterer: Ritz Catering
Venue: Ladner Fishermen's Halls
Coordinator: Power of Three
Photographer: Rebecca Bennett Photography