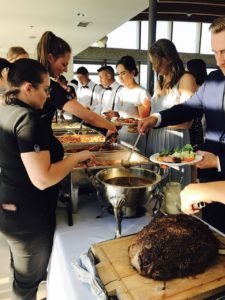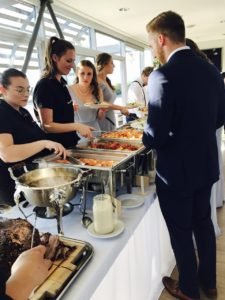 S + D contacted us in March of 2018 for their Summer 2019 wedding. After coming in for their tasting a month later, the booked us immediately!
We worked with this couple along with a couple family members to ensure their wedding day went without a hitch. It was fun and we appreciate them having us as their wedding caterer!
Here is a glance at what their wedding menu looked like…
The Menu: Elaborate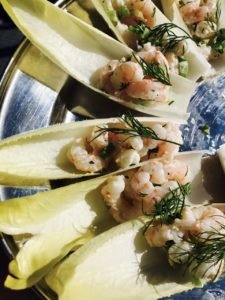 The Appetizers
Mini Spanikopita – Spinach, feta, garlic stuffed in a flaky filo pastry.
Traditional Beef Meatballs – Served with teriyaki sauce.
Steak Bites – Shaved steak on a toasted garlic baguette topped with blue cheese and caramelized onions.
Seafood in Wonton Shells – Crispy handmade wonton stuffed with diced garlic pesto crab & shrimp.
The Main Dishes
3 Cheese Stuffed Tortellini – Served in a tomato basil sauce.
Sockeye Salmon – Wild West Coast salmon filet with a ginger soy sauce.
Roast Beef – Served with gravy and horseradish. Carved by chef at end of buffet.
Blackened Salsa Chicken – Pan-fried chicken breast with Cajun seasoning served with fresh salsa.
The Dessert
Fresh Fruit Platter
Elaborate Dessert Platter – Bite size squares of Nanaimo bars, brownies, butter tarts, and carrot cakes along with a variety of elaborate mousse cakes and treats.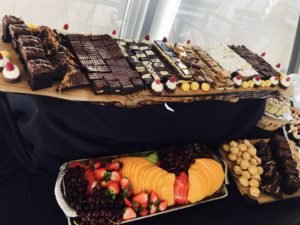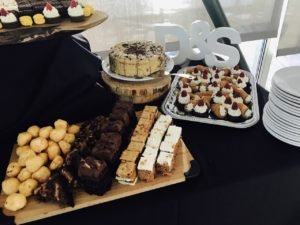 No wedding is complete without some beautiful details, check out how they decorated the UBC Boathouse below…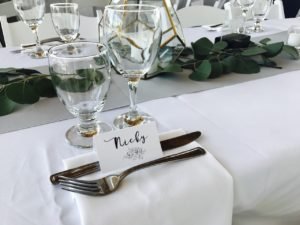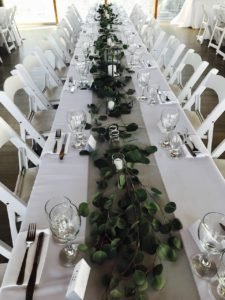 The Vendors
Caterer: Ritz Catering
Venue: UBC Boathouse
Videography: Adam Combs
Photography: Megan Benger Photography