We first spoke with this couple last September and had them in for a catering tasting in October.
These two were so fun to work with and had finalized some AMAZING choices for their wedding day menu.
Check out R & F's menu selections below…
The Menu: Elaborate Orchid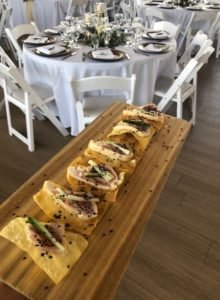 Appetizers
Mini Spanikopita – Spinach, feta, garlic stuffed in a flaky filo pastry.
Mini Yorkies – Slow roasted beef sliced stuffed in a fresh yorkie finished with a demi and onion relish.
Stuffed Garlic Pesto Chicken in Wonton Shells – Crispy handmade wonton stuffed with diced garlic pesto chicken.
Seared Tuna on Wonton Crisp – Ahi tuna seared and sliced on a crispy wonton crisp topped with a wasabi coleslaw.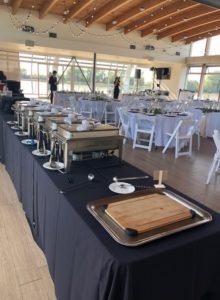 Main Dishes
Seafood Pasta – Prawns, scallops, salmon with peppers, onions, spinach in a cream sauce with penne.
Chicken Souvlaki – Skewers of Greek seasoned chicken breast.
Lemon Dill Sockeye Salmon – Wild West Coast salmon filet with lemon dill sauce.
Prime Rib – Top cut served with gravy and horseradish. Carved by chef at end of buffet.
Desserts
Fresh Fruit Platter
Elaborate Dessert Platter – Bite size squares of Nanaimo bars, brownies, butter tarts, and carrot cakes along with a variety of elaborate mousse cakes and treats.
Along with a delicious menu this couple's vision for decor was gorgeous!
Check out some photos we snapped of their earthy wedding decor…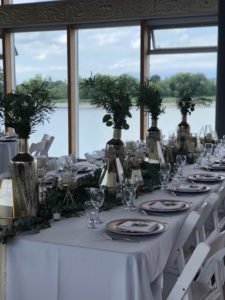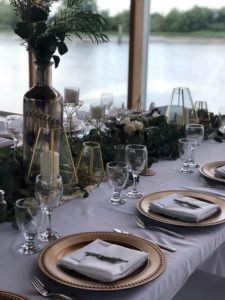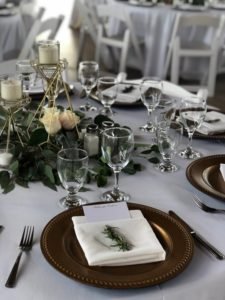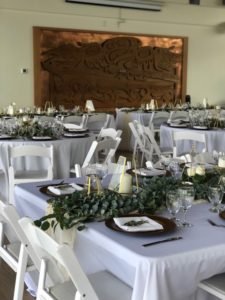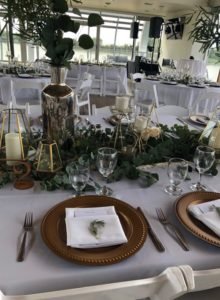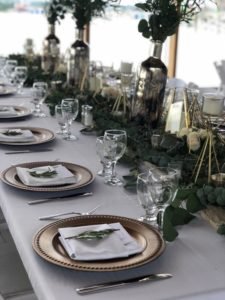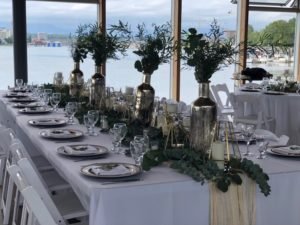 The Vendors
Caterer: Ritz Catering
Venue: UBC Boathouse
Bartender: Straight Up Bar Services
DJ/Entertainment: Little h Entertainment
Photography: Beautiful Life Studios
Coordinator + Decor: A Little Ivory