This brides sister got in touch with us last December to inquire about our services for the upcoming wedding.
We were very excited to hear from her as we had catered her wedding back in 2007!
We enjoyed working with this family once and we sure enjoyed working with them a second time around.
Check out T & B's menu selections below…
The Menu: Elaborate Orchid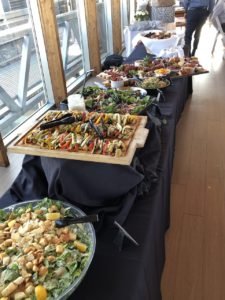 The Salad Choices
Caesar Salad – Romaine lettuce tossed in our signature creamy garlic Caesar dressing topped with Asiago cheese and crunchy croutons.
Spinach Beet Root Salad – Sliced beets on spinach with candied pecans and mandarin oranges topped with goat cheese and served with a poppy-seed dressing.
Roasted Yam, Qunoia, + Kale Salad – Quinoa, roasted yams, kale, pumpkin seeds, raisins, bell peppers and red onions in a garlic vinaigrette.
Spanish Black Bean + Cilantro Pasta Salad – Rotini pasta, sweet corn, black beans, cilantro, lime and peppers; served with a chipotle vinaigrette.
The Main Dishes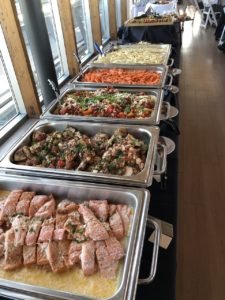 Mediterranean Penne – Sautéed peppers, red onions, sundried tomatoes,
black olives in an olive oil pesto with Asiago cheese topped with fresh herbs.
Lemon Dill Sockeye Salmon – Wild West Coast salmon filet with lemon dill sauce.
Roast Beef – Served with gravy and horseradish. Carved by chef at end of buffet.
Greek Style Chicken Breasts – Oven roasted sliced chicken breast served with tomatoes and onions topped with feta cheese.
The Dessert
Fresh Fruit Platter
Elaborate Dessert Platter – Bite size squares of Nanaimo bars, brownies, butter tarts, and carrot cakes along with a variety of elaborate mousse cakes and treats.
No wedding is complete with out the beautiful decor our couples have come up with for their big day!
Check out some photos our team snapped of their elegant chic decor…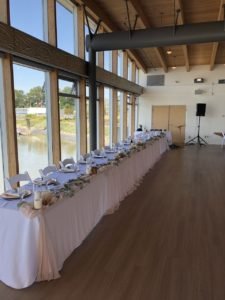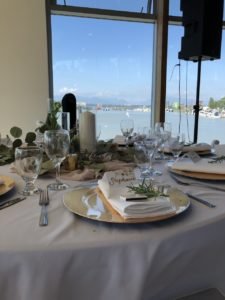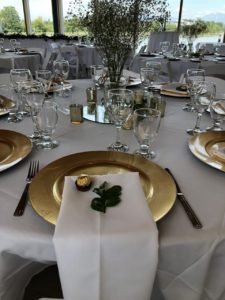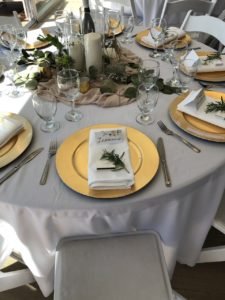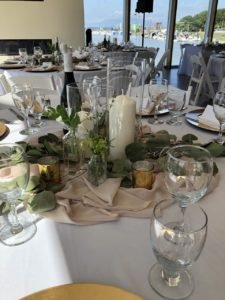 The Vendors
Caterer: Ritz Catering
Venue: UBC Boathouse
Bartender: Straight Up Bar Services
Photography: Heidrich Photography