Inquiring for a catered event and/or menu shouldn't be hard, and it's not! As long as you provide your potential Caterer with these key details:
Date
Guest Numbers
Location
Type of Event
Desired Menu Style
Budget
Together, all of these details are taken into account when determining our availability and what we can do for you. It may seem simple to just ask if we are available for a specific date – well, we may be but we also might not be due to other events that day, their requirements, and our staff on hand.
Your Event Date
Make sure the caterer is available for your event, catered luncheon, or dinner meeting. If a date has yet to be determined give us a rough idea – such as May, June, or December or even Summer 2019 or Winter 2020. With the month and/or season at least we can provide you with an idea on how busy we will be and how quickly you should book.
Guest Numbers
Along with the date, an approximate number of your expected guests are very important in determining our availability for a few reasons.
Depending on the day and menu you are inquiring about, we may have delivery minimums.
We may be too busy for large catered events.
Event Location
Ritz Catering is located in Langley, and we do have delivery restrictions when it comes to catered events. Your delivery location, date, and guest numbers all tie in together and are very crucial in determining our availability. Ritz Catering has done many large corporate events, weddings, business retreats, luncheons, and more across Vancouver, the Lower Mainland, and the Fraser Valley. Smaller menus with smaller guest numbers are accommodated locally within our local delivery area. And sometimes, we are able to deliver outside our local area for a higher delivery fee (time of day and traffic are major factors in determining our outside delivery area fee).
Type of Event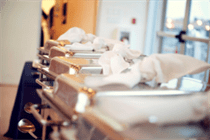 Knowing the type of your event, whether it is formal or informal can let us know what type of service you are requesting. For example if you're planning a sit down banquet for an award ceremony – your event is likely more formal and requires our staff to help maintain the catered buffet and buss guest tables. If you're planning a causal office farewell party – your event is likely to be less formal and more casual; a drop off service might suffice.
Desired Menu
Your menu and type of event go hand in hand. If you're hosting an open house event your menu is likely more passed appetizers and stationed platters than it would be a full buffet dinner menu. If you are unsure of what menu you're looking for just let us know and we will help plan something suited to your other event details!
Budget
When determining your Catering budget, keep in mind other associated fees. And ask your potential caterers what other fees may be associated with your type of Catered event. For example, our staffed events require gratuities, whereas our drop off services allows you to provide the gratuity at your own discretion. Depending on your needs and what your selected menu package includes; you may need linen, dish, or glass rentals. Additional hours may be required based on your event timeline. If you require any additional services not included on your menu (ie; drinks, extra menu items) there may be extra charges. And don't forget to include the 5% tax in your budget! Knowing a rough budget either per person or as a whole is very helpful when it comes to creating your Catering menu and quote.
Have your details together? Give us a shout and let's start planning!