Food and service are one of the most important aspects to any wedding. Think back to a really good restaurant you've been to where the food and service was phenomenal – you probably still go there and chances are you have recommended it to others because it was that good! Guests always rave about the food they had during a wedding, it serves as a conversation piece post wedding too!
Deciding on what food to serve at your wedding may leave you feeling uncertain. Will your guests like it? Can you accommodate specific allergies or dietary needs? What should be included in the wedding catering service? These are great questions to take with you to your wedding menu tasting. Wedding tastings aren't just to try the quality of your potential wedding menu, they serve as a consultation to discuss your needs and what the caterer has to offer.
Here we have outlined a few aspects as to what you should expect during your Wedding Tasting.
Quality
Caterers will try their best to provide your specific requests for the Wedding Tasting. But sometimes that is not attainable. Most Wedding Caterers order their products in bulk in order to keep their prices affordable. Unfortunately it is not feasible for Caterers to order a large quantity for only a few guests. Although we will try our best, especially if your Wedding Tasting date falls around a menu with that item on it. For the most part, it is good to keep in mind that you are coming to try the Caterers food for its quality as well as the service the Caterer provides.
Service
At your Wedding Tasting, you will not only taste some delicious food but you will also get the details as to what is included and what the Caterer can offer. Not one Caterer is the same, and they will all offer something different to you. The trick here is to see which Caterer fits better with your needs. At Ritz Catering we offer All Inclusive Wedding Packages, which means we include everything from the fork to the sugar in your coffee. Get more information on what we to Expect from your Caterer on your Wedding day here.
Answer Your Questions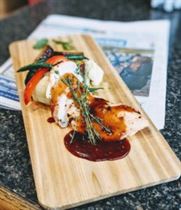 Write down a list of your questions before you head into your tasting. Keep in mind that no question is silly here! It is always good to be informed especially for your Wedding Day. Chances are you will likely meet with the Catering Coordinator at your Wedding Tasting. This will be the person who is communicating with you from there on out – make sure you address your concerns and ideas with this person, as they will be the one relaying information to the staff and chefs! Haven't booked your Wedding Menu Tasting yet? Contact Ritz for our available Evening Tasting dates!
Upcoming 2019 Tasting Dates:
January 9th 2019
January 23rd 2019